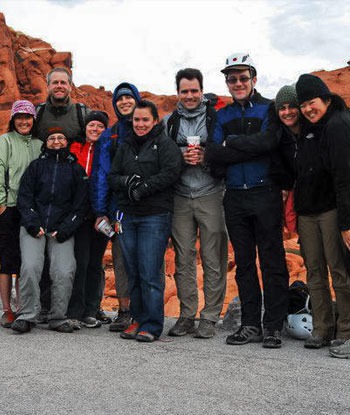 Joshua Tree Guides prides itself on building customized world class corporate rock climbing experiences! From sales retreats, casual outings, reward programs or team building.
We will create a truly remarkable, valuable and enjoyable climbing experience that everyone in your company will enjoy, no matter if they have never climbed before, are very experienced climbers, or perhaps have climbed just a few times before. If serious team building is your need, we offer a staff of experienced qualified team building experts and a comprehensive team building curriculum. Other themes like Conflict Resolution and Leadership can also be implemented!
Over the years we have had the pleasure of working with many esteemed corporations.
Our corporate clients have included:​
Google
CBS
Paramount Pictures
Yahoo
Frito Lay
Nike
Corporate Trip Rates-
Rates vary on the size of the group and preferred theme content for your team. For a quote and information on a customized corporate event please contact us.

Phone: 408-833-8308
Email: info@joshuatreeguides.com
Corporate Events –
A gratuity charge of 18% is automatically added to the total cost of trip. All rates are subject to change based on season and or availability.